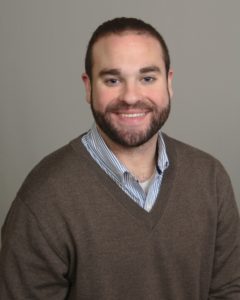 I am currently a clinical social work therapist in part-time private practice with Smith Psychotherapy Associates, S.C., and work part-time at Brightland Health a group psychotherapy practice in Lincoln Park located in Chicago, Illinois.  I previously worked at NorthShore University HealthSystem's Deerfield Behavioral Health as a psychotherapist in the Adolescent Intensive Outpatient After School Program, in the Adolescent and Adult Partial Hospital Program's, and in inpatient psychiatry at Highland Park and Evanston Hospital from 2014 through 2018.
I have received extensive training in Cognitive and Dialectical Behavioral Therapies, Motivational Interviewing, Clinical Hypnotherapy, and Strength Based Therapies. I currently utilize these modes of therapy to treat my clients. Most of my experience involves treating individuals who are 16 years old and older. I also provide family therapy with families of my clients. I treat individuals who have experienced anxiety and depression, and other mood disorders, grief and loss, pain, employment and school stress, and those who are having a difficult time adjusting to life's challenges. I find it most effective to form a supportive therapeutic alliance while providing clients a safe place to explore life's struggles. I believe that together we will work to overcome adversity in a solution-oriented way.
Education:
Bachelor of Arts degree in Social Work from Michigan State University, East Lansing, MI, 2012
Master of Social Work degree in Clinical Social Work from University of Illinois, Chicago, Jane Addams College of Social Work, 2013
Pre-Bachelor's Internship:
Adult Case Manager at Volunteers of American working with chronically mentally ill and dually diagnosed clients with addiction and mental health problems.
Pre-Master's Internship:
NorthShore University Health Systems Deerfield Behavioral Health adult and young adult Partial Hospitalization program, 2012-2013
Advanced Post-Masters Training:
Clinical Hypnosis Introductory Training with Bill O'Hanlon, 2015
Certificate, Ericksonian Hypnotherapy Congress, 2015
American Society of Clinical Hypnosis Advanced Certification Training Program currently in process
Completed a 100-hour clinical hypnotherapy and strategic psychotherapy certificate training program with internationally renowned clinical psychologist Michael Yapko, Ph.D., June, 2017
Associations:
International Association of Trauma Professionals
American Society of Clinical Hypnosis
License: Licensed Clinical Social Worker, Illinois
Certifications:
Certified Clinical Trauma Professional
You may e-mail me here: [email protected]
SaveSave
SaveSave
SaveSave